Strong Tie Structural Hardware
Simpson Strong-Tie is one of the top suppliers of building hardware. Over the years they have expanded their service to both the distributor and end user with top-of-the-line products. Simpson Strong-Tie is recognized as the genuine connector brand in the residential and commercial construction industries, and also for its ever-expanding offering of shear walls, moment frames and fasteners.
In the last two decades, the company has expanded further with products for infrastructure, commercial and industrial construction, including mechanical anchors, adhesives and products that repair, protect and strengthen concrete and masonry. If there are Simpson products you are looking to purchase reach out to us and we will schedule a time for you to pickup or we will deliver directly to your job site alongside other building supplies.
Mitek Structural Connectors
From foundation to ridge, USP Mitek connectors will ensure your structure is optimized to be safe and code compliant.
Some of the products USP Mitek offers are:
Angles and straps to join and reinforce joints with simple, multi-purpose solutions.
Column bases that are used for cast-in-place concrete and existing concrete.
Code-listed connectors for concrete and masonry designed to transfer tension loads in a wide variety of applications.
USP offers a versatile line of decking, wood fencing and pipe rail products in corrosion resistant finishes.
Top mount, face mount, sloped/skewed, and variable pitch hangers.
Foundation straps, holdowns, purlin anchors and tension ties for wood-to-concrete and concrete block installations.
Full range of structurally-rated fasteners for wood frame structures. Hot-dip galvanized, stainless steel, and Gold Coat corrosion resistant finishes available for exterior applications.
A full line of workbench, shelving and plumbing connectors to make your home projects easier.
Face Mount Hangers, Top Mount Hangers, and Hinge Connectors designed for use with glulam and timber beams.
Dozens of plated truss series available.
A large selection for dimensional lumber to meet various load requirements and installation needs.
Truss/rafter-to-plate and stud-to-plate connectors resist wind and seismic forces.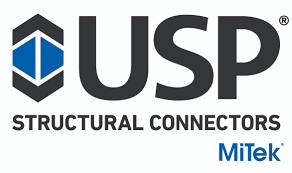 MiTek is a diversified global supplier of software, engineered products, services and automated manufacturing equipment. Specializing in the residential construction industry, MiTek provides a technologically advanced, high-quality, and reliable approach to business workflow – as well as the design, manufacturing and construction of residential structures.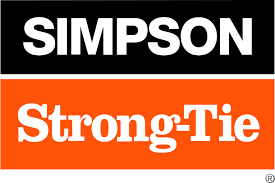 For more than 55 years, Simpson Strong-Tie has focused on creating structural products that help people build safer and stronger homes and buildings. Considered a leader in structural systems research, testing and innovation, Simpson Strong-Tie works closely with industry professionals to provide code-listed, field-tested products and value-engineered solutions. Its structural products are recognized for helping structures resist high winds, hurricanes and seismic forces. The company's extensive product offering includes engineered structural connectors, fasteners, fastening systems, lateral-force resisting systems, anchors and products that repair, protect and strengthen concrete.